This page will contain some 'news' of interest from the club that has occurred in the past few months.
Cricket Players – as we have said a number of times on this web site we currently have in our first team squad a number of young players, the majority of whom are Under-18 still.

A number of them are not just quality young footballers they are also excellent cricketers, for example how many 16 year old lads will have played North West Counties football and Northern League cricket, both premier leagues? In the Holker set up there are three, Tod Bamber, Gareth Smith and Callum Livingstone who turn out for Barrow CC in the summer. Include on top of that probably as talented a cricketer as you'll see at 16 years of age in Mark Daly, who has played Minor Counties cricket for Cumberland, including a half-century on full debut and has recently moved from Furness CC to Netherfield to play Premier League cricket. Add to that Sam Stephens and Graham Capstick who both play for Furness CC in the Premier division of the North Lancs. and Cumbria league and you don't have a bad side!

If we wanted to put a Holker XI out we could also include some of the reserves and junior players and we'd have a formidable team. It really does show that the investment in coaching youngsters can pay off. This does create one problem, the clash in August / September and April / May as both sports overlap, it'll only get worst if Blatter gets his way with summer football!
CLUB CHAIRMAN - Holker Old Boys are pleased to announce that Dick John has taken on the important role of Club Chairman on a temporary basis. Dick steps up from his role of Vice Chairman until a permanent resolution can be found. He succeeds Steve Livingstone who resigned from the post and the committee, due to a period of ill health, in September of this year.

Dick is a long time Holker member having managed the club's first team through its most successful period in the late 80's & early 90's, including the achievement of winning the Lancashire Amateur Shield twice.

Over the past few years Dick has played a more supporting role, but has had a spell as reserve team manager, he has been called upon to run the odd side when managers have been away and he even, with a small band of helpers, re-roofed the Stand after the gales of Christmas 2004.

Dick leads a very strong committee that will strive to continue to develop Holker Old Boys both on & off the field and at both Senior and Junior level.
Danny Keenan - One pleasing thing this week was to hear that Danny Keenan had 'bagged' a couple for the Reserves in the 3-2 win at Furness Rovers. Danny is a young lad who joined Holker in the summer from Barrow Wanderers and was thrown right in at the deep end as he lead the line for the first team along side the other young kids and the 'odd' veteran (odd in more ways than one!!). Danny worked his 'butt' off for the team & whilst he is not yet the finished article has display flashes of what he can do, the goal at Winsford was quality.

Danny has now dropped down the pecking order with the return of Paul Southward to the club, but he is sticking in & has gone into the Reserves with the other good young kids we have, there are plenty more in the 3rds as well, and is prepared to learn his trade with our club & I have little doubt that he'll get his chance again. Working with the likes of Dave Conlin at training Tuesday & Thursday can only improve his game.

It is pleasing to see the likes of Stuart Houston & Phil Morris joining the club over the past few weeks, both good young players who can play an important part in the development of Holker Old Boys & if all our young lads retain their commitment & enthusiasm than Holker can look forward to a great future in the North West Counties.
A reminder of how Holker have built the current First Team through our juniors.

Of the team that were involved in the win against Colne FC in the 1st Round of the United Co-operative Trophy;

Ø seven are still playing Under18's (those marked with *);

Ø ten have developed via Holker juniors, including the 'older' players like Coulter & Hudson;

This demonstrates the importance of a junior section to a progressive club, and at Holker we all appreciate the efforts our qualified junior coaches put in every week with the next crop of Holker first teamers.
| | |
| --- | --- |
| Sam Stephens* | Joined Holker as an Under-14, a quality goalkeeper who has very good hands, takes crosses & stop shots - there can't be many better at his age. |
| Mark Daly* | Joined Holker in the Under 18s, spent a number of years at Preston NE, was North West Counties Division 2 player of the month for Feb. last season not bad for a 16 year old, always dependable. |
| Gareth Smith* | Joined Holker as an Under-12, has a sweet left football & very quick off the mark is developing into a quality left sided player. |
| Rob Coulter | Has been with Holker since a junior, is a bit of a minder for the young lads with his 'ferocious' tackling, does the talking for them as well. |
| Graham Capstick | Another product of Holker juniors, had a spell with Barrow Under 18s & Reserves, but now back at his club, a strong defender who is totally committed (better than his Dad Jimmy???). |
| Callum Livingstone* | Has been at Holker since Under 10's, a forward in junior football is now plying his trade in midfield, good feet and can hit a ball. |
| Chris Low* | Been with Holker since under-14, a fast paced prolific scorer in junior football, is plying his trade in midfield at the moment where his pace & striking ability have created opportunities. |
| Tod Bamber* | Has been with Holker since the Under-10's, as powerful a midfield player as you would want & his passing & vision mark him out. This will be his third season in the NWCFL and he now 'is the part'. |
| Kev Turner | The 'Old Man' of the side against Colne, joined from BAE Systems a few seasons back, does work hard on the park. |
| Rob Bruce | Another young man who has developed via our juniors, now the skipper & leading the youngsters. His free running ability have caused defences problems this season. |
| Paul Southward | Has been the 'icon' for the youngsters since his return from Dalton Utd, the lads look up to him & he is a genuine 20 goals a year man in NWCFL. His work rate since his return has been first class. |
| David Robinson* | Joined Holker to play in the Under 18s, was suspended from the Colne game due to his red card v. Runcorn, is a strong & steady defender who is developing nicely. |
| Reece Hudson | Not available v. Colne, but the 'veteran' can still do a job in the midfield on his day. |
| John Newby | Joined Holker to play in the Under-18's, has filled in a number of times this year, scores goals from midfield in the Reserves where he is a regular. |
| Ad Pearce | Another guy who scores regularly in the Reserves and can step up to this standard when required. |
We also have the experience of last season first team regulars, Barry Stevens & Ryan Waters, getting fit to add some competition to the squad.

It should be noted that a 'big plus' this season has been the coaching assistance that Manager Derek Birrell has received. Dave Smith, ex BAE Reserves Manager, has moved up from the Under-18s to be Dereks assistant & Colin Athersmith has joined from BAE. Dave Conlin (forwards) and Dave Knowles (goal keeping) are also experienced guys who are supporting the team and making a difference. Aligned to that the sessions that Mark Hetherington (UEFA B) puts on has ensured a renewed focus at training on Tuesdays & Thursdays.

We also have youngsters within the Reserves & 3rd Teams that are also developing and they will soon be pushing.

We are therefore very enthusiastic, whilst not wanting to get ahead of ourselves, that we have a structure throughout our club that can support our First Team ambitions.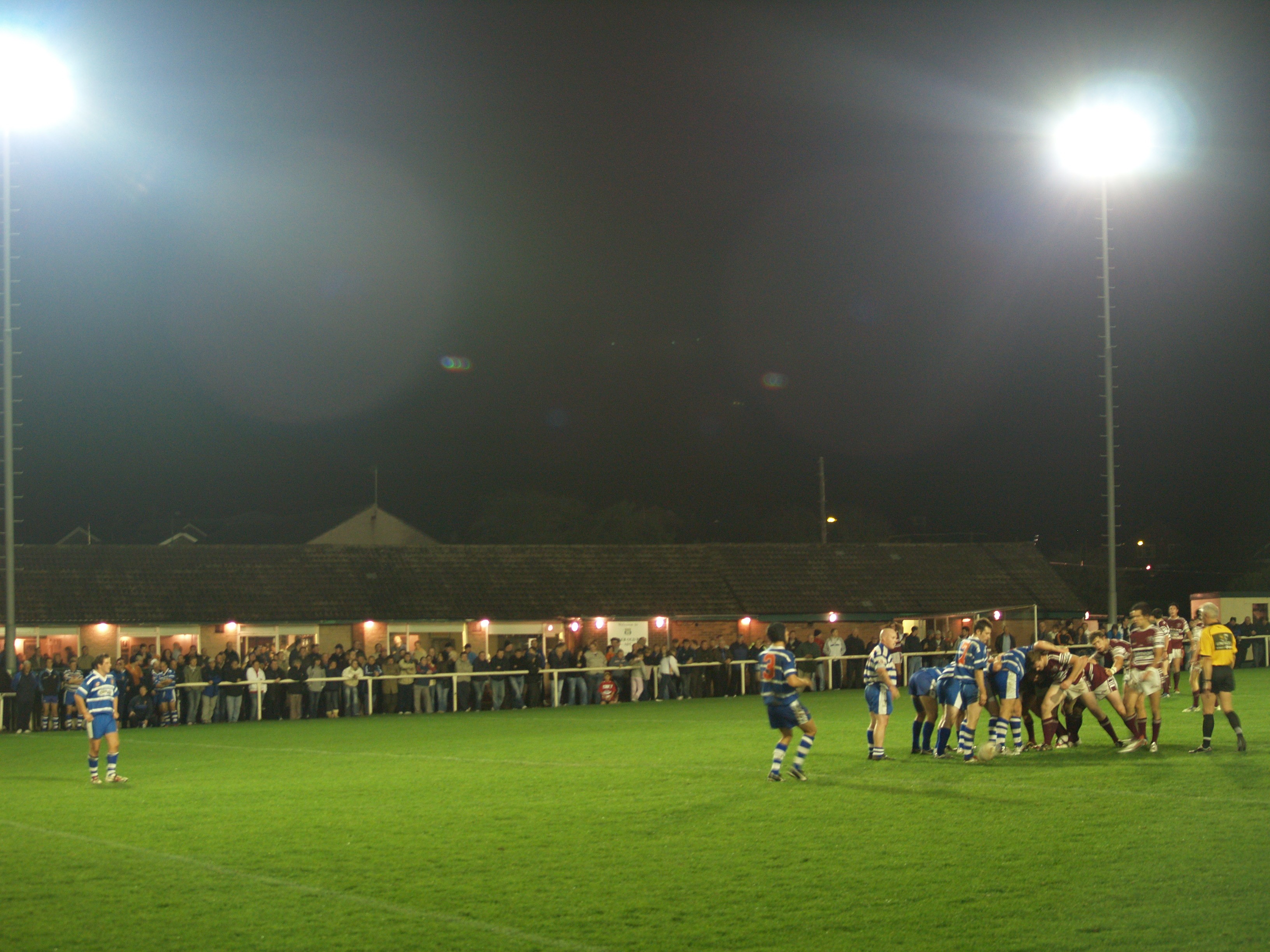 Rugby League, well supported, at Holker
First Rugby League Game to be played at Holker Old Boys ground, Rakesmoor Lane.
On Friday 27th October Holker Old Boys' Rakesmoor Lane ground witnessed, for the very first time, a Rugby League game, played between a Barrow & District Select team & the Australian touring side Manly Warringah 'A' Grade that not only ended in a 26-26 draw, thrilled a large local crowd, but was also the last time an 'Ashes' legend will play the game on these shores. Cliff Lyons who played over 330 State games, played in four Grand Finals, State of Origin games and of course Tests, finished his career at Holker Old Boys Football Club in Barrow-in-Furness playing for the tourists.
This whole event was a great success, with the set up at Holker getting complements from the 'oval ball' followers, who now know, if needed, they can successfully use the facilities.
The Barrow organising committee, in particular Jon Jefferson, thanked Holker Old Boys publicly in the Evening Mail, advising that without Holker's support & generosity this game would not have gone ahead.
The Holker ground staff were pleasantly surprised with the condition of the pitch at the end of the game for, after heavy rain all day, they expected the surface to cut up, but there was noticeably less damaged than after a first team game.
Holker were pleased at how things had gone for this event, because the Club is committed to supporting the local community & if this includes stepping into the 'breach' for local rugby on the odd occasion then so be it (after all a number of our juniors are also quality Rugby League juniors).